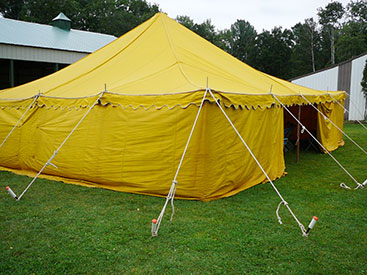 You are cordially invited to a tent revival at Prague Park, Prague, OK. Sept 29-Oct 06, 2019.
Minister: Bro. Michael Smith.
Sunday morning @ 10:00 am.
Nightly Services 7:00 pm.
Directions: Coming from the Oklahoma City or Guthrie area, follow U.S. Highway 62 (known as 23rd Street in OKC). Go east about 45 miles into the west edge of Prague. Soon, on your right (south) you'll see the Park Brothers Funeral Home. At the very next street, about one block, Sekera Street, turn right (south) and go about a block to the tent site. Tent should be viewable from Highway 62. There should be signs directing you too.
Coming from the Tulsa area, you will probably come into the town of Prague on State Highway # 99 you will intersect with U.S. Highway 62. Go west on Highway 62 to Sekera Street, turn left (south) to tent site.
All are welcome and invited to come be with us!
For more information, contact:
Ed Wilson (417) 455-3805
Cornelio Enns (405) 973-8991