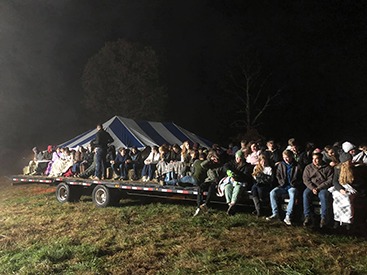 Meeting: Springfield Congregation Weekend Tent Meeting;
Dates: October 15-17, 2021.
Welcome to a weekend tent meeting revival at the Sorrell's farm.
Friday: Singspiration under the tent @ 7:00 p.m.;
Saturday: Sorrell Hayride @ 3 p.m. / Dinner @ 5 p.m. / Evening service at the Sorrells' @ 7 p.m.;
Sunday: Morning service under the tent @ 10:30 a.m.; Lunch
*********NOTICE**********
Sorrell's address: 454 Blackhawk Rd, Galena, MO.
The young people are welcome to spend Friday and Saturday nights at the Sorrells' homes. The boys will stay at Bro. Randy and Sis. Tammy's and the girls will stay at Bro. Justin and Sis. Angela's. (Please bring a pillow and sleeping bag.)
For more information, contact:
Michael Smith
417-988-4302.
Randy Sorrell
417-224-4341.
Angela Sorrell
417-844-2846
We welcome your prayers and attendance.